Blog
Premios Billboard de la Música Latina 2015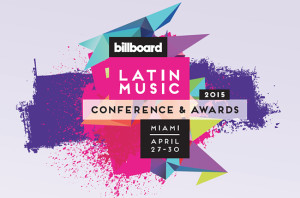 The 2015 Billboard Latin Music Awards was the "Most Watched Ever"! Wow! According to Billboard (https://www.billboard.com/articles/news/6553767/billboard-latin-music-awards–record-ratings), "the show reached a cumulative audience of 6.4 million total viewers and 3.36 million adults 18-49."
The show was hosted by Pedro Fernandez or as I like to call him "Pedrito"…I grew up watching him on TV as a singer and actor and Gaby Espino the Venezuelan bombshell actress and model! I loved her dresses!!! #FashionFiend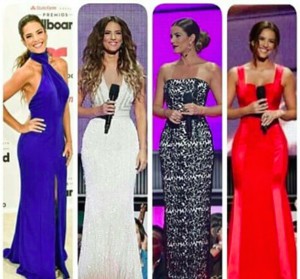 8 artists debuted new music on the show! What a great platform and how fitting! The show also started with 8 mins of music! And, the performances kept rolling throughout! I loved it!
LA MUSICA
Gente de Zona ~ La Gozadera
Flags and latin pride busting out of the seams! Click on pic for vid!
Gerardo Ortiz ~ El Cholo
Bringing some bad boy Banda edge…
Nicky Jam ~ Travesuras
I love how he has completely reinvented himself as an artist…his newest material is beyond amazing! "Dimelo Papi!"
The video I originally found on YouTube of his performance was taken down…but, here is the official vid…
Natalia Jimenez ~ Quedate Con Ella
I loved the Mexican Flair…her voice is amazing and her songs have become the anthem for women empowerment!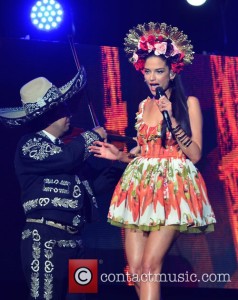 Julion Alvarez ~ El Amor de Su Vida
Dios mio que romantico! What a romantic!
Plus he is so handsome…and that black cowboy hat! It's getting hot in here!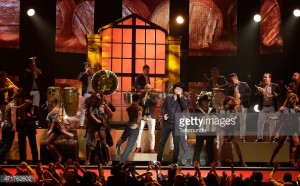 Alejandro Sanz ~ Un Zombie a la Intemperie
27 years in the biz with over 25 million records sold! He returns to the music scene after a 3-year absence! I think he and Romeo should collaborate…that is all! Somebody make that happen!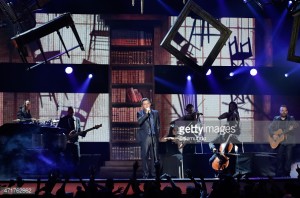 Daddy Yankee ~ Sigueme y Te Sigo
I was def diggin' his outfit and that of his dancers! I have been a fan of his since I can remember! "Gasolina" is what they called me in college…ha!
Afrojack, Ne-Yo and Luis Fonsi
EDM was introduced to Hispanic television! Check out this hot fusion between Afrojack, Ne-Yo and Luis Fonsi! Click on pic for vid!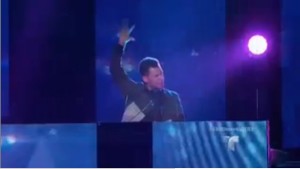 Pedro Fernandez ~ Si Tuviera Que Decirlo
His outfit of choice…the Charro! Orgullo Mexicano!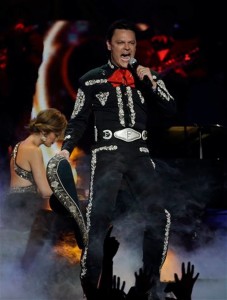 Carlos Vives, Daddy Yankee y Wisin
I feel like this should have closed the show instead…it had more star power and would have ended on a better note! Just saying…
Click on pic for vid!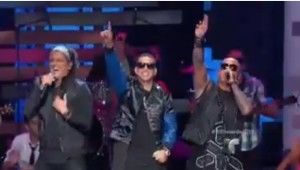 J Balvin ~ Ay Vamos
COLOMBIA in the house! Me fascina su estilo de reggeaton…it is so different from the traditional Puerto Rican sound/dembow…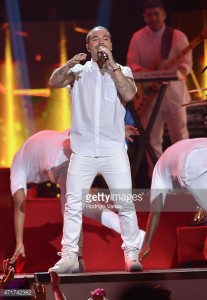 Lucero and Ana Gabriel ~ Quién Como Tú
Two Mexican female music icons! Enough said…
Romeo Santos ~ Hilito
Not the best quality but, here you go…
https://www.youtube.com/watch?v=Ix36ZZGi-1A
I have been a fan since his Aventura days…I still remember the very first song I heard from them: Obsesion…here's the official vid for your listening and viewing pleasure…
I can't wait to see him in San Antonio in less than 3 weeks so I can sing my little heart out, scream from excitement and dance all night!!!
"El Rey De La Bachata" te espero pronto baby! Besitos!
Carlos Santana y Juanes
Carlos Santana and Juanes….whoa! Two guitars, lots of talent and sultry, charismatic sounds! Can life get any better?!?! Enjoy!
Click on pic for vid!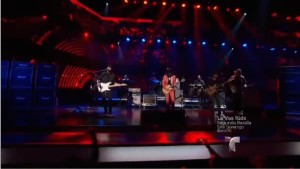 Belinda, Juan Magan y Lapiz Con Siete ~ Si No Te Quisiera
Somebody call Belinda's stylist…I want her blingy jeans NOW! My favorite colors are glitter and sparkle!
THE Highly Anticipated JLO Selena Tribute
I loved everything! This tribute to the "Queen of Tejano" was one for the books…
I liked that JLO sang in her strength and didn't try to be like Selena…she worked the entire stage/set! She also incorporated Selena's family in the performance…how magical! JLO was born to be an ENTERTAINER!!! She's my idol! Love her! You can call me JLO, too 🙂
Click on pic for vid!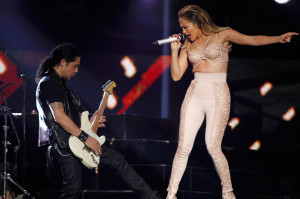 LOS PREMIOS
Romeo Santos and Enrique Iglesias where the BIG winners! Romeo with 10 and Enrique taking home 9!
Marc Anthony ~ Gira Del Año
He dedicated the award to his children for sacrificing time away from their father who gives of himself every night to his fans…
What an honor! He hopes to be receiving the same award 10 years from now! He was born to do this (music)! I couldn't agree more! I have been a Marc fan since I was a child! Thanks Mom for playing his music on our morning commutes to school! Salseras!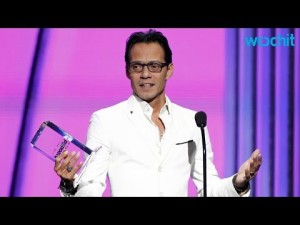 Special honors…
Carlos Santana ~ Espíritu De La Esperanza 
He encouraged everyone to do their part to shine their own light on this world…what an activist and humanitarian!
Roberto Carlos ~ Lifetime Achievement Award
Not super familiar with him so I couldn't get excited about this but, mad props! He has had a phenomenal career! Felicidades!
Full list of winners can be found here:
https://www.billboard.com/articles/events/latin-awards/6539008/billboard-latin-music-awards-2015-winners-list-complete
FOTITOS
Pics of the event can be found here:
https://www.billboard.com/photos/6553103/2015-billboard-latin-music-awards-red-carpet-show-performances-backstage?i=554987
I hope to attend this amazing Conference and Awards Show in sunny, sexy MIAMI one year!
Que Viva La Musica! Que Vivan Los Latinos!
Besos,
Jen